Longtime partners are coming together to help fight against the spread of COVID-19 as businesses around the country hope to continue toward recovery from the global pandemic.
With a historical partnership of more than 30 years, DeanHouston is proud to be a preferred supplier of branded, washable and reusable face masks for Dover Corporation. Exhibit Logistics, a subsidiary of DeanHouston, has shifted its production, manufacturing and logistics capabilities to produce personal protective equipment (PPE) to help keep people safe and slow the spread of COVID-19.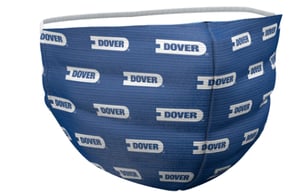 "With everything going on, it's an honor to join with Dover to be partners for the common good," said Dale Dean, CEO of DeanHouston. "It's critical that businesses continue to safeguard their employees to help stop the spread of this virus. We hope we can provide a little support in the fight."
Leveraging its Dover MS Printing Impres 4320 printer, software from Caldera and inks from JK and Sawgrass, Exhibit Logistics is producing CDC-compliant masks in a safe, sanitary and private facility in Cincinnati, Ohio.
Designed for all-day comfort with flat elastic, the face masks come in either over-head or over-ear. The wire nose bridge provides snug fit, minimizing eyeglass fogging.
DeanHouston is also donating one mask to medical or community caregivers or the nonprofit of Dover's choosing for every 10 masks ordered, in hopes of helping alleviate the strain felt by those on the frontline of fighting the virus, such as nurses, caregivers, healthcare organizations, etc.
For more information, please contact Tyler Houston at tyler.houston@exhibitlogistics.com.